It is an enormous privilege to be the Headteacher of Hampton High. The students, staff, families and governors show an unstinting loyalty to our school, and this is reflected in our thirst to improve constantly.
The Ofsted "good"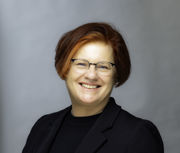 judgement of March 2019 was a reflection of the sustained hard work and commitment by everyone in the school community to transform the school into a community comprehensive school of choice for local families.
Over the last three years we have seen our younger year groups becoming oversubscribed, with waiting lists on entry to the school. This local confidence in our school has placed a real responsibility on our shoulders to ensure that we deliver the best possible education for the young people entrusted to our care.
We take pride in providing an inclusive and nurturing environment for our young people, whilst delivering a broad and balanced curriculum with a scholarly approach to learning and engagement. We are extremely proud of our Specialist Resource Provision which was opened in September 2021, and which supports students on the autistic spectrum. This provision is an important milestone for us, as we hold inclusivity at the heart of everything we aim, to achieve for the young people in our care.
We endeavour to live out our core values of Aspiration, Resilience, Collaboration and Respect on a daily basis, and were delighted to join Bourne Education Trust in September 2021 as part of a growing family of schools which is committed to excellence for all.
If you would like to come and see the school in action, please email info@hamptonhigh.org.uk with your details. The pride our students have in their school is infectious, and we would like you to experience that first hand.
Rebecca Poole
Headteacher